An ominous Spectre hung over CES 2018's PC announcements, as the industry grapples with how to protect against devastating CPU exploits that melt down security on damned near every computer on the planet. But put all that aside for now: 2017 was one of the best years for PC hardware ever, and at CES 2018, the PC kept the pedal firmly planted to the metal.
Intel and AMD joined forces on a powerful chip. Nvidia pushed gaming displays way past the limits of what we've seen so far. Next-gen routers and VR headsets made their debut. Heck, Asus used an optical illusion to make multi-monitor setups even more immersive!
Let's dig into the 10 big CES reveals that PC enthusiasts need to know about, starting with a doozy.
[ Best hardware of 2017: PCWorld names the top products of the year ]
1. Intel <3 AMD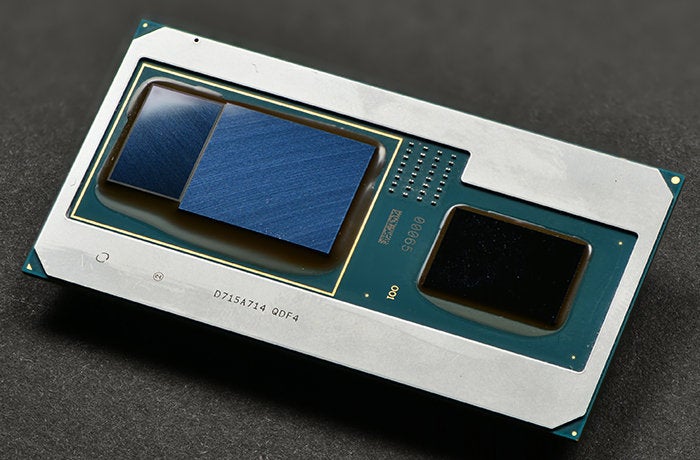 Hell's frozen over. Pigs are flying. Intel and AMD are working together on a chip.
Okay, okay, we've known this collaboration was coming since November. But at CES 2018, Intel pulled the full curtain back on five Intel Core processors shipping with Radeon Vega graphics onboard. You'll find both Core i5 and Core i7 CPUs represented in the "Kaby Lake-G" lineup, as well as differing Vega configurations. But getting down to brass tacks—hit that link for full details—Intel expects the chips with slower Radeon graphics to beat Nvidia's GeForce GTX 1050 in gaming performance. That translates to decent 1080p gaming performance with Medium graphics settings, roughly. And Intel says the full-force 100W chips should outpunch even the GTX 1060 Max-Q, a GPU that demands few compromises at 1080p resolution.
And, you know, Intel and AMD are working together.